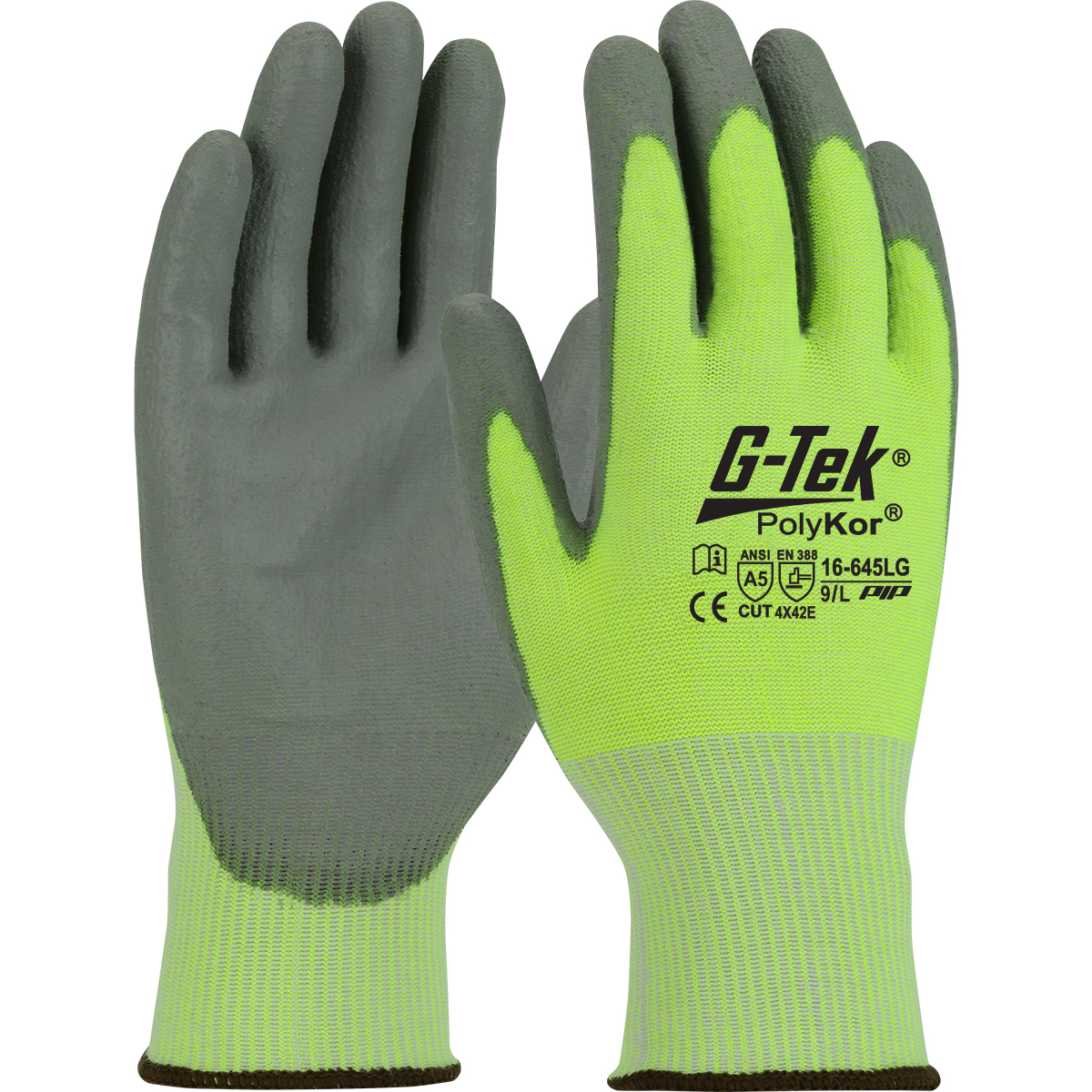 G-Tek® PolyKor®
Seamless Knit PolyKor® Blended Glove with Polyurethane Coated Flat Grip on Palm & Fingers
16-645LG-CN
SIZES: XS-2XL
Packed: 6 Dozen/Case
Country of Origin: China
Liner Material:

PolyKor

Coating:

Polyurethane

Grip:

Flat

Gauge:

13
VIEW SPEC SHEET
REQUEST A SAMPLE
Liner Material: PolyKor
PolyKor: Products constructed with PolyKor® engineered yarn are suitable for protection against mechanical hazards in the toughest environments. PolyKor® products can be designed for different protection levels, up to the highest levels, while maintaining an unprecedented level of comfort. They are also highly resistant to abrasion and chemicals, so you can rely on them to provide long-lasting protection.

View All PolyKor
Coating: Polyurethane
Polyurethane: Polyurethane (PU) is a tough, proven material that offers good tactile sensitivity by way of its thin material deposit. It conforms intimately over multiple glove liners to provide flexibility, dexterity and tactile sensitivity. PU coated gloves are among the most commonly used because they are versatile and provide excellent value. Newer, water-based PU coatings offer improved flexibility and less environmental lifecycle impact.

View All Polyurethane
Grip: Flat
Flat: Flat coatings take on the surface properties of the glove liner which results in the thin, conformable deposit of coating material. This results in high dexterity glove with tactile grip in dry and in slightly oily conditions.

View All Flat
Product Description
Ideal for handling, assembly, sorting of small to medium parts and materials, shipping, receiving packaging and MRO applications.
Features
Seamless construction offers increased comfort and breathability
PolyKor® blended shell is lightweight and provides excellent dexterity, tactile sensitivity, and cut resistance
Polyurethane coatings take on the surface properties of the glove liner providing a tactile grip in dry and slightly oily conditions, ideal for applications that require dexterity for precise handling
Knit Wrist helps prevent dirt and debris from entering the glove
Hi-Vis coloring makes this product very easy to see
Color coded hems for easy size identification
Washable, resistant to chemicals, water, and ultraviolet light
WARNING: Cancer - www.P65Warnings.ca.gov
PolyKor Blend Seamless Knit
13 Gauge
Hi-Vis Lime Green
Gray Polyurethane Coated Grip
Palm & Fingertips
Knit Wrist
EN388 Results: 4X42EX
EN 388 2016 Results:Abrasion: 4Cut (Coupe Test): XTear: 4Puncture: 2Cut (TDM-100 Test): EImpact Protection: X
EN 388 is a European Standard. Cut Level is determined by the number of cycles it takes a spinning circular blade, that is pulled across the material under a constant weight of 500 grams, to cut the fabric. As the number of cycles increase, so does the glove's ratings. Click here for more information about the EN 388 2016 standard.
The G-Tek® brand is applied to seamless knit coated gloves used for various cut protection and general purpose applications for various industrial, construction, and MRO applications. As a comprehensive line of hand protection, G-Tek® encompasses several technology platforms to meet the various needs of the market. Each cut resistant glove is tested to both ANSI and EN standards, and test scores are readily available on each product's webpage.
View Products