FORWARD-THINKING

CUSTOMER SERVICE

For over 30 years, one of PIP's most cherished corporate values has been to deliver a "WOW experience" to our customers and valued distributor-partners. Crucial to this charge is understanding and anticipating the needs of our customers, and continuing to exceed expectations with a level of service that is second to none.
VALUE PROPOSITION


Customer Service
...we've seen errors decrease tremendously, we are able to see orders processed very efficiently, we're able to train people faster and on-board people in every different area.
- Bridget N. Milot-Ren,Executive Vice President and General Counsel
Our Customer Service department is now divided into Two Centers of Excellence – Order Management and Customer Service Branching our representatives into specialized roles has resulted in direct access to knowledgeable and skilled personnel to provide primary and backup service, exceptional response time to phone/email inquiries as well as guaranteeing seamless order processing and fulfillment – all to exceed our customers' expectations.
Watch the video to learn more about our teams and how we are working to best serve you.
Every day, we strive to be the BEST at processing your orders. We love hearing from our customers to ensure their needs are met in a timely and efficient manner. Call us about anything – we are here to help.
- Sheila Schalk, Director of Programmed Sales
Customer Service Team
Our team of highly experienced Customer Relationship Specialists is dedicated to servicing our valued customers. This includes:
Resolution of any issues related to open orders, inventory and price questions
Technical questions that include specifications, applications and crosses
Processing of sample requests
Facilitation of any other issues
Phone: 877-446-3278
Fax: 877-463-2789
Email: orders@pipcanada.ca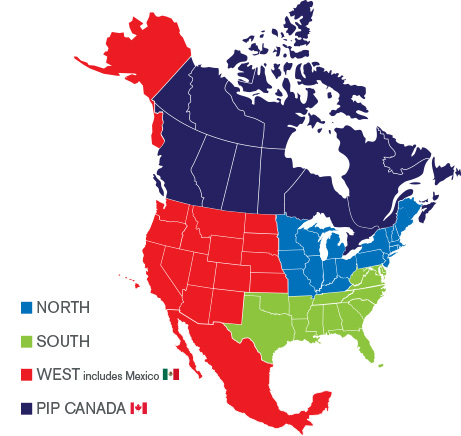 "PIP over the last few years has made many changes, and all of them have been for the better of the customer."
- Denise Thomas, Director of Order Management
Order Management
Order Management is made up of several teams, which are completely dedicated to Order Processing. Specifically, this includes:
Order entry and confirmations via all means including EDI
Made-to-Order and Custom Logo order processing
Place all orders to: orders@pipcanada.ca
Logo orders and inquiries: printsCA@pipcanada.ca
ORDER PROCESSING
Distributor orders are entered continually through the day and shipments are made against those orders. Invoices are faxed or emailed overnight reflecting the items ordered, quantity shipped and billing price. Freight carrier and tracking information is included on the invoice. We believe that providing our customers with timely and accurate information empowers you to manage your business more effectively.
SHIPPING
PIP Canada ships all "STOCK" items from our distribution center located in Laval, Quebec. All "NON-STOCK" items will ship from our Memphis, TN USA distribution center. Made-to-Order (MTO) items will ship from either our Chaska, MN USA or Bluffton, IN USA manufacturing plants.