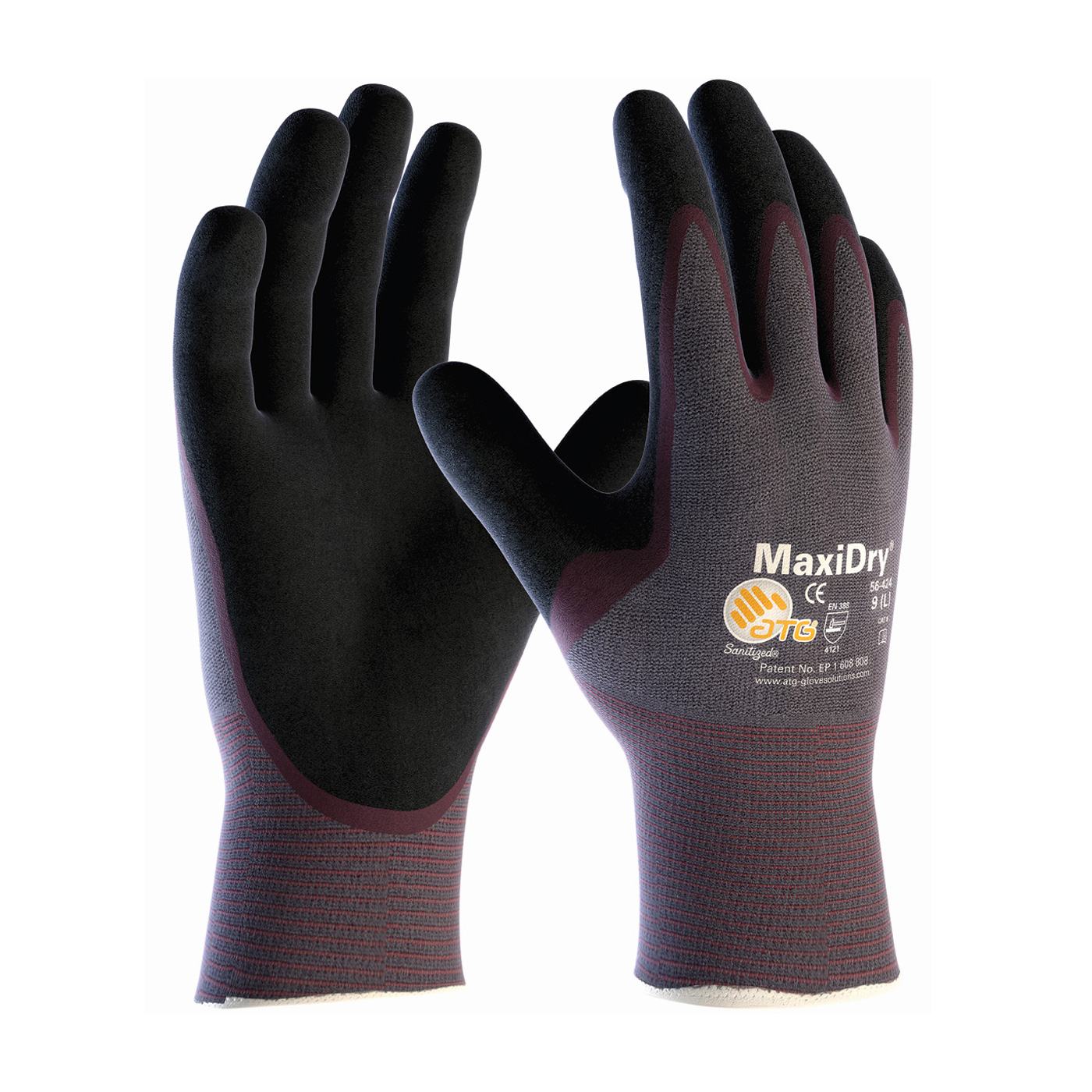 MaxiDry®
Ultra Lightweight Nitrile Glove, Palm Dipped with Seamless Knit Nylon / Elastane Liner and Non-Slip Grip on Palm & Fingers
56-424-CN
Sizes: XS-2XL
Packed: 6 Dozen/Case
Country of Origin: Sri Lanka
Liner Material:

Nylon / Elastane

Coating:

Nitrile

Grip:

MicroFoam

Gauge:

15
VIEW SPEC SHEET
REQUEST A SAMPLE
Product Description
Known and loved across the globe MaxiFlex® has become the world standard for precision handling gloves in dry environments. People have been asking ATG® to make an oil repellent MaxiFlex® that's still super thin, flexible, dexterous and comfortable. So they did. Here it is. They call it MaxiDry®.
Features
Seamless string knit shell is comfortable and flexible
Foam Nitrile coatings are compatible with light oils and will provide a good grip and excellent abrasion resistance
Knit Wrist helps prevent dirt and debris from entering the glove
Liquid Repellence - Increased resistance to oils via ATG's LiquiTech® technology platform
Ultra Lightweight- Synthetic coating combined with an industry leading super light seamless knit liner provides excellent comfort, sensitivity, fit and dexterity
Locking Cuff - Ensures the glove doesn't slip on the hand. An exclusive elasticated support in the wrist area provides a "locking" effect for a close and snug fit
Optimized Grip - The micro-cup non-slip grip finish allows for a controlled and superior grip in oily and wet applications. The nonslip grip is only applied where it is actually needed - in the palm area - to ensure flexibility isn't compromised
All ingredients used in the manufacturing and construction of this product are compliant with the REACH legislation
This glove has been laundered prior to final packaging making it clean and safe for use
The Oeko-Tex® Association has evaluated and certified this product as skin safe from the second it comes into contact with the skin
The Skin Health Alliance has awarded professional dermatological accreditation following review of the scientific dossier behind this product
MaxiDry by ATG
Palm Coated
Ultra Lightweight Nitrile on Seamless Knit Nylon
Purple/Black
Non-slip Grip
EN388 Results: 4121X
EN 388 2016 Results:Abrasion: 4Cut (Coupe Test): 1Tear: 2Puncture: 1Cut (TDM-100 Test): Impact Protection: X
EN 388 is a European Standard. Cut Level is determined by the number of cycles it takes a spinning circular blade, that is pulled across the material under a constant weight of 500 grams, to cut the fabric. As the number of cycles increase, so does the glove's ratings. Click here for more information about the EN 388 2016 standard.
Focused on innovation and quality, ATG® designs, develops and manufactures gloves that enhance the performance of the most sophisticated work tool, the hand. Their customers say that ATG® stands for value for money, quality, innovation, enthusiasm and a sense of competitive challenge. They deliver quality products and services through a core team that tracks markets, observes products in use and discusses with end-users, which forms the basis to continually improve the customer's experience through innovation.
View Products