FORWARD-THINKING

CUSTOMER SERVICE
"...we've seen errors decrease tremendously, we are able to see orders processed very efficiently, we're able to train people faster and on-board people in every different area, whether it be in Memphis, TN, California, or New York."
- Bridget Milot, Vice President of Administration
Our Customer Service department is now divided into Two Centers of Excellence – Order Management and Customer Service. Branching our representatives into specialized roles has resulted in direct access to knowledgeable and skilled personnel to provide primary and backup service, exceptional response time to phone/email inquiries as well as guaranteeing seamless order processing and fulfillment – all to exceed our customers' expectations.
Watch the video to learn more about our teams and how we are working to best serve you.
"Our customer service experience is just about that, service. So we've improved the service we're providing to our customers and the team is excited about doing that without any other distractions."
- Diane Greco, Director of Customer Service
Customer Service Team
Our team of highly experienced Customer Relationship Specialists dedicated to servicing our valued customers. This includes:
Resolution of any issues related to open orders, inventory and price questions
Technical questions that include specifications, applications and crosses
Processing of sample requests
Facilitation of any other issues
Phone: (855) 284-6800
Fax: (518) 861-0144
Email: customerservice@pipusa.com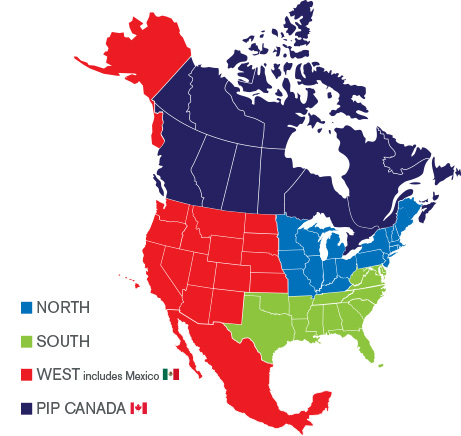 "PIP over the last few years has made many changes, and all of them have been for the better of the customer."
- Denise Thomas, Director of Order Management
Order Management
Order Management is made up of several teams, which are completely dedicated to Order Processing. Specifically, this includes:
Order entry and confirmations via all means including EDI
Made-to-Order and Custom Logo order processing
Place all orders to: orders@pipusa.com
Logo orders and inquiries: logoexpress@pipusa.com
COMMANDE EN COURS DE TRAITEMENT
Les commandes de nos distributeurs sont entrées toute la journée en continu et les expéditions sont effectuées par rapport à celle-ci. Les factures sont envoyées par télécopieur ou courriel dès le lendemain, détaillé avec les articles commandés, la quantité expédiée et le prix. Le transporteur de fret et les informations de suivi sont inclus sur la facture. Nous estimons qu'offrir ces renseignements opportuns et précis à nos clients leur permettant de gérer leur entreprise plus efficacement.
LIVRAISON
Chez PIP, nous expédions tous nos articles en "STOCK" de notre centre de distribution situé à Bolton, en Ontario. Tous les articles "NON-STOCK" seront transportés de notre centre de distribution à Memphis, TN aux États-Unis. Les articles sur mesure "Made-to-Order (MTO)" seront expédiés soit à partir de Chaska, MN États-Unis ou dans nos usines de fabrication à Bluffton, IN aux États-Unis.